We all know of
Mr. Gabriel Delahaye's profound appreciation for fan fiction
, but what about those of us who, like crows and babies, are almost exclusively motivated by a love for shiny things? Hath we not eyes? If you prick us, do we not bleed? Don't we also deserve a place on Videogum?
It is with this ambition that I present my first installment of
You Can Draw It Up
, which I hope will become
the
definitive home for fan art for and by our dear Monsters. This week I offer a brief study on the evolution of Hollywood legend Jonathan Lipnicki.
Born October 22, 1990, Lipnicki is on the Libra/Scorpio cusp, which is also known as the Cusp of Drama and Criticism. Those born under these influences exhibit the fair judgment of Libra and the cool, precise skill of Scorpio.

Jerry Maguire-Era Jonathan Lipnicki
2011; pen and ink
When Lipnicki exploded onto the scene as Ray Boyd 1996's
Jerry Maguire
, viewers saw this dynamism in the little dynamo and clamored for more!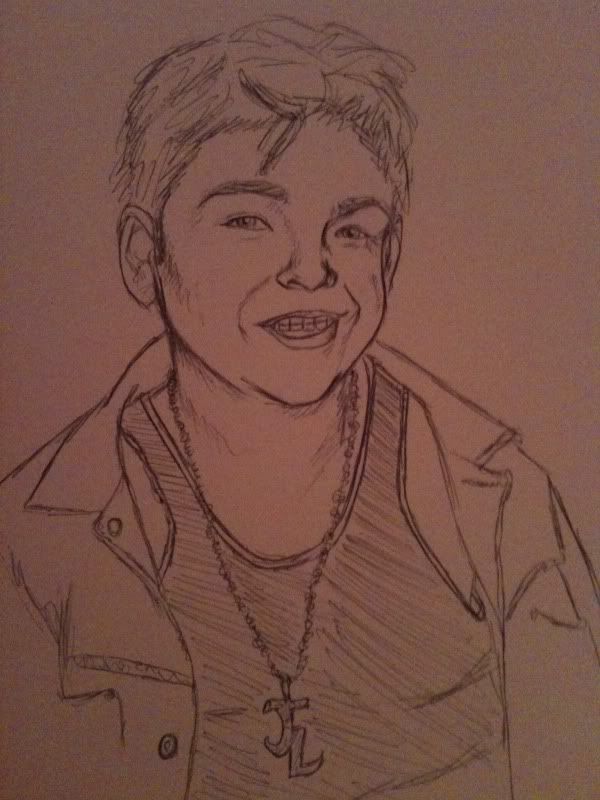 Jonathan Lipnicki Gets Serious
2011; pen and ink
And more they received. Lipnicki was all over film and television with appearances on
The Jeff Foxworthy Show
,
The Single Guy
,
Dawson's Creek
, and
Stuart Little
--the last cowritten by none other than
Devil
screenwriter and living legend M. Knight Shyamalan.

Jonathan Lipnicki's Hair Obeys No Man
2011; pen and ink
The high point of Lipnicki's career arguably came when he starred in 2000's spine-chilling psychothriller
The Little Vampire
. The picture currently enjoys a 55% freshness rating on
RottenTomatoes.com
and has inspired at least one YouTube member to create a hauntingly beautiful tribute.

Jonathan Lipnicki: The Man
2011; pen and ink
Now a mature 20 years old, Lipnicki's exploits can be tracked via his
official web site
and an active
Twitter presence
. We here at YCDIU look forward to his future endeavors, especially if they're all as amazing as
this
.
Got an idea for fan art or interested in contributing to the gallery? Leave a comment here or find me on Twitter: @thereallengli.